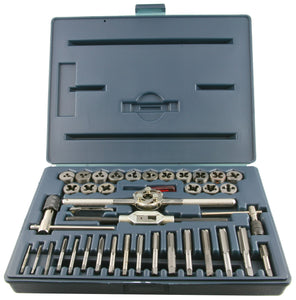 40 Piece Tap and Die Set in Hard Plastic Case
17 Carbon Steel Plug Taps and 17 1" Dies, Die Stock, Tap Wrench, 2 T-Handle Wrenches, Tread Gauge and Screwdriver

Sizes: 4 x 40 NC, 6 x 32 NC, 8 x 32 NC, 10 x 24 NC, 10 x 32 NF, 12 x 24 NC, 1/4 x 20 NC, 1/4 x 28 NF, 5/16 x 18NC, 5/16 x 24 NF, 3/8 x 16 NC, 3/8 x 24 NF, 7/16 x 14 NC, 7/16 x 20 NF, 1/2 x 13 NC, 1/2 x 20 NF, and 1/8 x 27 NPT
Available in the following configurations:
Hex Dies
Solid Round Dies
Adjustable Round Dies
High Speed Steel Adjustable Round Dies
Keep your set complete, Guaranteed.  All individual pieces contained in this set are available for purchase separately. If a piece is lost or damaged, an identical piece may be purchased right here on our website to keep your set complete.
---
We Also Recommend