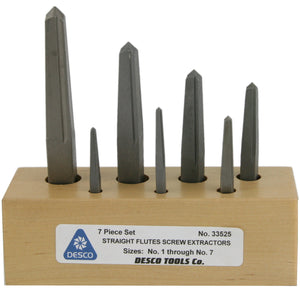 7 Piece Screw Extractor Set
7 Piece Left Hand Screw Extractor Set
Sizes: 1, 2, 3, 4, 5, 6, and 7
Straight Flutes
Industrial Quality
In Sturdy Wooden Stand
Screw Extractors made in Japan

Keep your set complete, Guaranteed

.  

All individual pieces contained in this set are available for purchase separately. If a piece is lost or damaged, an identical piece may be purchased right here on our website to keep your set complete.
Size Chart for Straight Screw Extractors
| | | | |
| --- | --- | --- | --- |
| Screw Extractor Size | Bolt or Screw Size to Remove | Pipe Size to Remove | Drill Size to Use |
| 1 | 3/16" to 5/16" | - | 9/64" |
| 2 | 3/8" | - | 3/16" |
| 3 | 7/16" | 1/8" | 15/64" |
| 4 | 1/2" to 9/16" | 1/4" | 5/16" |
| 5 | 5/8" | 3/8" | 3/8" |
| 6 | 3/4" | 1/2" | 15/32" |
| 7 | 7/8" | - | 9/16" |
---
We Also Recommend